From this point on may every morning feel like Christmas. Wishing that you wake up excited and ready for the day just as you were if it was Christmas everyday!
Retirement Wishes
May your first Christmas after committing your lives to each other be filled with love and predictions of the following years to come.
Engagement Wishes
Christmas as a married couple brings new and compromising traditions. Its an exciting time in a couples lives to create your Christmas together.
Marriage Wishes
I know this Christmas will be harder than usual this year. Memories may be all you feel you have now, but know your loved one is looking down on you this Christmas and will be with you in spirit.
Wish You Were Here
I send my Christmas wishes, wishing a poem I could write instead. Regardless of my writing imperfections, another Christmas we look ahead.
Wedding Poems
The light of the Christmas star to you. The warmth of a home and hearth to you. The cheer and good will of friends to you. The hope of a childlike heart to you. The joy of a thousand angels to you. The love of the Son and Godís peace to you - An Old
Irish Blessing Quotes
I love Christmas time, its a time when even the unfriendliest of people find the true meaning of Christmas.
Wedding Phrases
I know how much you love Christmas fruit cake, so my wish to you is that under your Christmas tree you will find lots of cake just for you.
Cake Ideas
How blessed are we that 4 months ago we celebrated Jesusís birthday and this weekend we are celebrating his resurrection!
Easter Wishes
It is always harder to celebrate holidays such as Christmas when we are missing someone we love. May your holiday be filled with special memories from past holidays.
Condolence Message
I would do so many things for just because I love you. I would drive across town to get you your favourite ice cream. I would make a speech on your behalf. I would do anything you needed me to do, just because I love you. On Christmas, nothing has changed.
Wedding Speech
Retirement is just as good as Christmas Morning for children. We get to celebrate, open gifts and then play and do what we like for days ahead!
Retirement Wishes
Wishing you a graduation with the excitement of Christmas morning. Wishing you presents in the same manner as well!!
Graduation Wishes
Christmas are like birthdays with all the presents that will surround you. But remember the love from the people around you mean more than all the presents in the world.
Birthday Wishes
Try and keep your energy up this holiday season. We all know you are going to need it! Happy Christmas!
Funny Christmas Wishes
We've holidays and holy days, and memory days galore;
And when we've toasted every one, I offer just one more.
So let us lift our glasses high, and drink a silent toast.
The day, deep buried in each heart, that each one loves the most.
Author Unknown
Wedding Toasts
Another year has come, but this one feels much different. Even though you are in heaven, I still feel like you are here.
Wish You Were Here
Christmas can be a spiritual time when we think about the true meaning of Christmas. Let the spirit of Christmas find you.
Santa is coming to town, so watch out and keep a look out for those black boots as they will be making their way down your chimney before you know it.
I know how Christmas can be a crazy time of year, so my wish for you this year is to have a blizzard day where you get stuck home with nothing to do but relax.
Joyeux Noel, Feliz Navidad, or Merry Christmas! It doesn't matter how we say it. It all means the same thing! Here to you having a great holiday.
Allow the carols to bring you comfort and joy this holiday season. Maybe even partake in a few yourself!!
This time of the year we see sparkling lights on our trees, covered in white snow. May you see the beauty the trees provided during a cold and windy winter.
Every year we have another chance to make our Christmas better than the last. This may mean something different to everyone. So my wish to you is, this Christmas is everything you want it to be.
Christmas bring many wishes from many different people. The only wish you need is the one that comes from above.
The emotions that Christmas brings can be overwhelming at times, so think positive thoughts and look for the good in every situation.
Every year you accomplish a beautiful Christmas dinner for us all, and every year I am excited to join you for the wonderful event.
My Merry Christmas wishes are just for you with many blessings from God in your home and with your family.
Sleigh bells ring, I am listening, to the sounds of Christmas bells and children laughing. May this be the same sight and sounds you here this Christmas.
Its a Christmas to remember and be proud of. So much has changed, but our traditions stay the same, always!
Ice skates and icicles, the love of winter is here. May your Christmas be everything you love about this time of the year.
Wishing you joyful thoughts and mindful moments filled with merry exchanges between you and your loved ones.
Whether you are naughty or nice this year, may Santa find you and give you everything you deserve this season. I hope you were nice!
Wishing you an old fashioned Christmas with the popcorn stringed decorations and all the memories to go with it!
Don't make this Christmas a ritual, make new memories this year to add to all the great traditions you already have.
Listen for the bells jingling, and watch for the lights to twinkle. Watch for all the little things this Christmas, because its the little things that matter!
Kris Kringle will be heading your way, with his jolly attitude. May you feel the jolliest of feelings yourself!
Happy Christmas and many great memories to a wonderful family who makes amazing memories all year long.
From my house to yours may this Christmas be filled with love and joy with the loudest of laughter.
Christmas time is here and there is nothing you can do about that, so take the time to enjoy these holidays as they won't be around for very long!
Sometimes Christmas isn't happily anticipated by everyone as it is for some. I hope your circumstances did not make your anticipation any less excited.
Holiday Wishes
Sometimes we are unable or unwilling to use the terms Merry Christmas due to other peoples cultures or religious beliefs, but we still want to wish our friends and acquaintances best wishes. Here are some ways to do that:
During my favorite time of year I am sending many wishes to make this day as great for you as I always hope it will be.
Holidays are a time of year when we feel more charitable. Take this time to be generous but use this new year to show that feeling charitable can happen all year long.
My favourite thing about holidays, are the pictures we traditionally get taken. I love to send them and love even more when I receive them. Sending you many photo memories this season.
Wedding Photography
No matter the holiday or occasion, finding meaningful words takes some time. But with you, its always easy. You are true, with a kind heart, and your mine!
What To Write In A Wedding Card
Greetings this holiday season. Sending my bestest wishes to you and your family.
I would like to send you gift on this holiday, but I believe gifts are not enough. You deserve much more than just a meaningless gift.
Wedding Gift Ideas
Winter wishes on this cold December day. Wishing you a warm drink and a roaring fire!
Holidays are a special time for family. Happy holidays from our family to yours.
May your home be filled with comfort, great food and great company this holiday season!
Tis the season to be happy, helpful and kind. Treat others nicely this holiday season.
A special time to celebrate a joyous day with wonderful people surrounding your every move.
Holidays are filled with so much good. They are the perfect time to share all that good with the ones you cherish.
Warm wishes on this cold and frigid winter holiday. Stay warm and cheery this holiday season.
Wishing you snowflake kisses and snowman hugs with the love of winter to warm your heart.
I love how you embrace this time of the year and wish that others would embrace it the same way.
When you were little I use to watch you make snow angels. Was so happy to be able to watch you grow into an angel who loves snow!
May your mittons and boots make your outsides be toasty. May your favourite warm drink make your insides cozy.
This year many celebrate with presents and carols. Others enjoy just the warmth and kindness of many.
On this festive season, wishing you a day of great hopes and dreams coming true.
Lets celebrate this wonderful time of year with as much love as we can muster.
Christmas Wishes For Friends
Wishing you and your family a very Merry Christmas and a Happy New Year!
New Year Wishes
Wishing you a holly jolly Christmas with many more laughs to come in the new year.
Wedding Wishes
May every morning give you the same feeling as a child feels on Christmas day.
Good Morning Wishes
Wishing you and your family a blessed Christmas filled with the love of Jesus!
Thanksgiving Blessings
A good birthday feels like Christmas morning! Its filled with family, friends, great food and presents!
Happy Birthday Brother
Isn't xmas a great time if the year? Wishing you a warm Christmas!
Christmas surrounds us with all our favourite things. May your Christmas be no different!
Merry Christmas during this winter wonderland! A white Christmas it is for us!
Let the lights twinkle and the ornaments shine. Wishing you a Christmas filled with sparkle.
I love you more and more for every Christmas we spend together.
My gift to you this Christmas is to tell you how much I love you!
Be cozy and warm this Christmas season with lots of yummy treats.
Presents are fun but remember it's God's presence that are what Christmas is all about!
May your Christmas be magical and full of Christmas spirit.
I hope you have a Christmas worth talking about over and over again!
Happy Holidays and best wishes on a cold and snowy Christmas!
Sending you mistletoe this season with many hugs and kisses to brighten your Christmas.
Glee and love is all you need on Christmas morning!
May the coming holiday be exciting and a happy time of your life.
Merry Christmas to someone who I highly admire, love and am thankful for.
Christmas time is a special time when we all come together in good faith and spirit.
May this Christmas bring you nothing but joy and happiness.
Wishing you a Christmas filled with joy and wonder that you will enjoy in all ways.
A special Christmas greeting to make all your dreams and aspirations come true!
I appreciate you, not just once a year when we are festive, but all year long!
Christmas trees and Christmas lights bring lots of joy and glee.
Merry Christmas is my wish to you this year, sent to you by me with a love and a kiss.
Merry Christmas to my favourite person in the whole wide world.
Sending you cheerful vibes for a beautiful time on your Christmas Day.
I wish you have a wonderful Christmas and all your dreams will come true
Through the spirit of Jesus, I wish you a very Merry Christmas.
May this festive season be filled with miracles and the true meaning of Christmas.
Christmas parties, gifts galore, Jesus Christ and family and friends that bring you joy.
Wishing you and your family a very Merry Christmas and a Happy New Year!
Joyeux Noel to a great Christmas and an even greater New Year!
This Christmas, put away the expectations and do all your favourite things.
Jingle your way to a terrific Christmas and may this holiday be something out of a x-mas carol.
Wishing you a bright and shinny Christmas morning filled with peace and happiness for a New Year.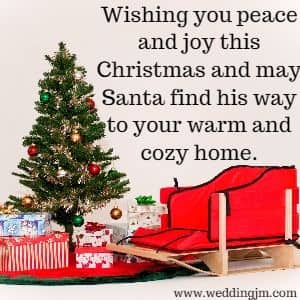 Wishing you peace and joy this Christmas and may Santa find his way to your warm and cozy home.
A Christmas card for one of my closest friends. Wishing you lots of happy companions this Christmas.
Christmas is a time to celebrate family and friends so this is my chance to tell you how much you mean to me.
May you feel love and comfort from your family and friends that surround you each and every Christmas.
May your angel on top of your Christmas tree shine brighter than any other this Christmas Day.
May this Christmas be perfect for you and your family! I even wish for a white and snowy forecast!
Light the fire, drink eggnog and read your favourite book by candle light to make your Christmas great!
My hope for you this Christmas is that mistletoe will find you and all your dreams will come true.